Welcome to the
Thompson Okanagan
Discover the splendours of British Columbia's vibrant and breathtaking beauty. A remarkable region nestled in the heart of BC, the Thompson Okanagan offers a truly unforgettable vacation. Whether you're a nature enthusiast, a culture lover, or an all-around adventure seeker, the Thompson Okanagan is the place to be.
Located at the confluence of two rivers, Kamloops is an outdoor enthusiast's paradise. From hiking and biking trails, world-class fishing spots, and championship golf courses, the opportunities for adventure are endless. Explore the captivating landscapes, visit historic sites, or enjoy the city's vibrant dining and entertainment scene. Kamloops has it all!
Welcome to Vernon, where lakes and mountains create a breathtaking backdrop for outdoor adventures in the North Okanagan region. Relax on the shores of Okanagan and Kalamalka Lake, explore nearby orchards, or go hiking and biking in the surrounding nature. Don't miss the vibrant downtown with its boutique shops and delicious local farm-to-table cuisine. Vernon is a delightful blend of nature and culture.
Situated in the picturesque Okanagan Valley, Kelowna is a paradise for nature lovers and wine enthusiasts alike. Explore vineyards, go boating on Okanagan Lake, or hike through scenic trails. With its vibrant arts scene and charming downtown, Kelowna offers a delightful blend of outdoor adventure and cultural experiences.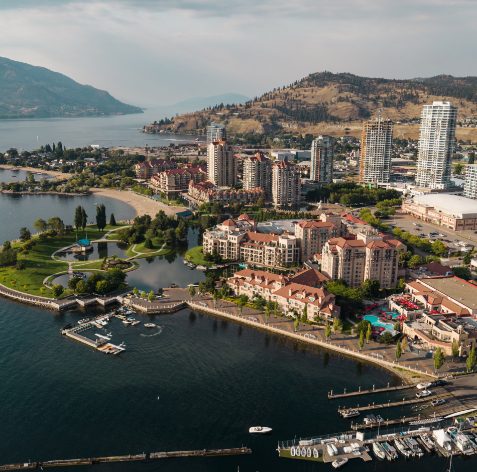 Nestled between two lakes, Penticton is a Mecca of outdoor adventure. Enjoy a day on the water, bike the Kettle Valley Rail Trail, climb at Skaha Bluffs, or simply spend a relaxing afternoon exploring the wineries and craft breweries. With its vibrant arts scene, bustling farmers' market, and scenic trails, Penticton is a must-visit destination in Canada.
Discover the hidden gem of Osoyoos, and immerse yourself in the beauty of this scenic desert town. Indulge in a wine or culinary experience, relax by the lake, or explore the local Indigenous culture. Osoyoos offers a tranquil retreat in a truly captivating setting.