As the vibrant hues of autumn paint the scenery, Penticton emerges as a hub of activities waiting to be discovered. This season offers a splendid opportunity to step outdoors and uncover the charm of Penticton. 
Art & Culture 
Immerse yourself in Penticton's history and heritage by delving into the Penticton Museum & Archives. Here, you'll encounter innovative exhibits, interactive displays, educational programs, and archival resources that offer insights into the city's past. From historical photographs to property records, the museum is a treasure trove of information, providing both visitors and locals a chance to connect with Penticton's legacy. 
Shopping & Dining
Venture further into Penticton's quaint downtown, where heritage sites beckon exploration and the allure of local shopping awaits. Along Main Street and Front Street, an array of shops and boutiques invite you to indulge in a unique shopping experience within a short stroll. From culinary delights at restaurants, breweries, and cafes to fashion, home decor, biking gear, and more, you're bound to discover a new favorite spot that resonates with your taste. 
Penticton's Best Galleries 
Downtown Penticton is also an art lover's paradise. Immerse yourself in the local art scene by visiting galleries like The Lloyd Gallery, Tumbleweed Art Gallery, and Cormier's Studio. The Penticton Art Gallery, a local institution since the 1950s, offers an array of artistic expressions at the end of Front Street on Marina Way. A short distance away is the Penticton & District Community Arts Council (PDCAC), housed within the historic Leir House Cultural Centre. This creative hub hosts family-friendly events, workshops, exhibitions, and more throughout the year. 
Farm Adventures
For family-oriented activities, a visit to GottaGoat Farm promises endless fun. Located just outside Penticton, the farm offers playful encounters with goats, chickens, horses, cats, and their friendly farm dog. Alternatively, Covert Farms in Oliver invites families for immersive farm tours, where kids can interact with animals, feed llamas and sheep, and enjoy kid-friendly tastings alongside wine options for adults.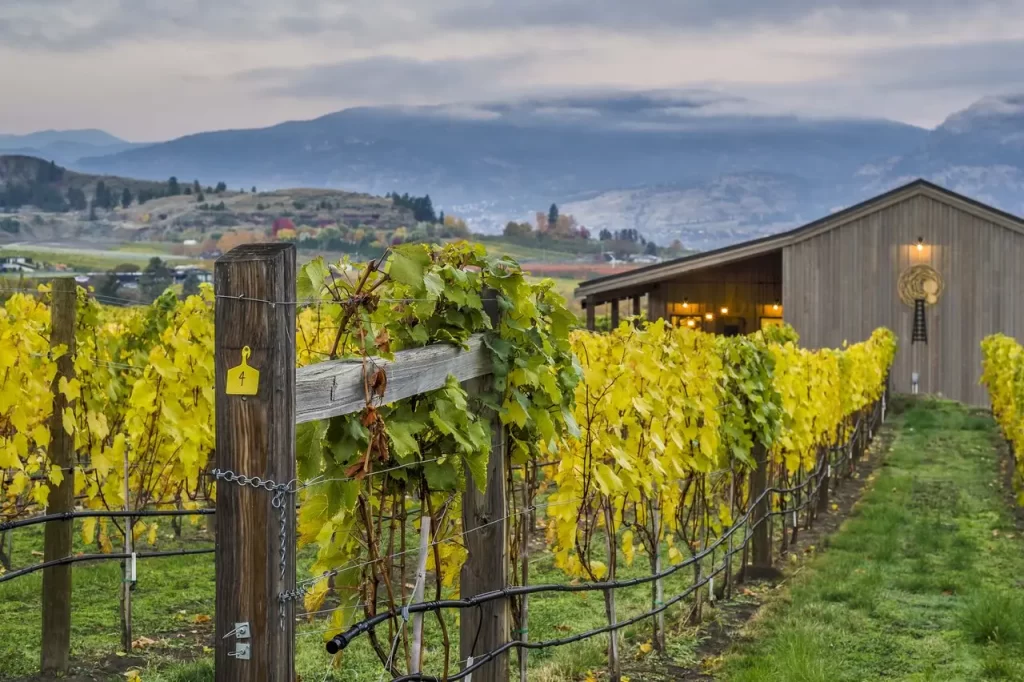 Wined & Refined
For those seeking a more refined experience, the fall season is the perfect time for wine tastings at Penticton's wineries. With the crowds of summer fading, you can savor the wines at your own pace. While some wineries close temporarily, many remain open throughout the year. Check out the list of wineries open beyond the summer season, and consider making reservations in advance. Numerous wine tour companies offer their expertise, ensuring a delightful and informed wine-tasting journey. 
As the wine harvest concludes, the harvest of other local produce begins, making it an opportune time to explore Penticton's farm-to-table options. Discover the culinary community through establishments like Daily Special and follow the trail of local flavors, guaranteed to satisfy your taste buds. 
Penticton Hiking Trails
Before indulging in a delectable meal, take a refreshing walk along Penticton's scenic trails and hiking areas. Skaha Bluffs Provincial Park offers breathtaking views of Skaha Lake and a chance encounter with Bighorn Sheep. If you're seeking a bit more activity, consider a round of disc golf at one of the local courses. The Rotary Marina View Disc Golf Course offers a beginner-friendly 9-hole experience, while the more challenging Three Blind Mice Disc Golf Course offers 18 holes with varying elevations. 
With its mild climate and captivating landscapes, Penticton stands as an unrivaled destination this autumn. Explore special packages for a memorable weekend retreat or consider extending your stay to fully immerse yourself in the charm of Penticton.